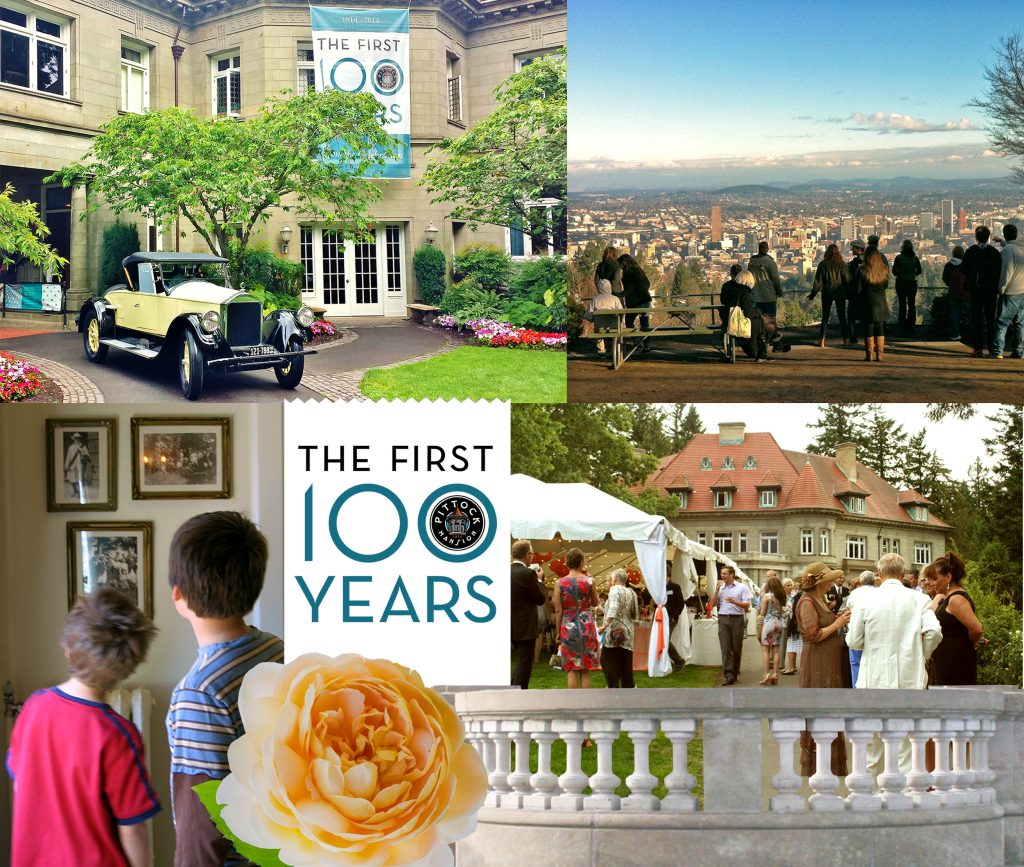 Pittock Mansion's Centennial Year has come to a successful close! Beginning in February with 8,000 visitors during our Centennial launch free admission days and ending with a busy holiday season, Pittock Mansion has grown with momentum impressive for a centenarian.
In July, Centennial festivities continued with a 100th Birthday Celebration. The community visited the house on the hill to stroll the gardens, view vintage cars, listen to music, and eat cake. Even the unseasonable summer rain could not dampen the festivities!
Our once-in-a-lifetime Centennial Soirée treated a sold-out crowd to a locally-inspired meal on the lawn amid live music and breathtaking views of downtown Portland. Guests made wonderful memories of Pittock Mansion and a number joined the Henry's 100 giving circle to support Pittock Mansion's upcoming museum activities.
While the Centennial Year provided an occasion to celebrate Pittock Mansion's (and the city of Portland's) past century, it was also an opportunity to strategically position the mansion for its next 100 years. In line with Henry Pittock's spirit of innovation and reinvention, we implemented numerous enhancements to make Pittock Mansion more accessible, meaningful, and interactive for visitors. We began with improving way finding signs on the grounds and indoors, upgrading the permanent exhibit, and increasing visitor engagement by adding multi-sensory and interactive elements in the exhibits. Visitors can now play with a stereoscope, hear recorded piano music in the music room, smell gingerbread in the kitchen, and see dozens of historic photos of the Pittock family and the city of Portland.
Looking forward to Pittock Mansion's next century, we will repurpose the 3rd bay of the Garage from storage space to a welcoming admissions area that will open at the start of our 2015 season. This will alleviate congestion in the foyer and create a transition between purchasing tickets and experiencing the historic home.
Throughout 2015 and beyond we will work to update and improve the Pittock Mansion website to give visitors access to more in-depth information and additional resources through online technology.
We had ambitious goals for Pittock Mansion's Centennial Year. We welcomed just over 90,000 visitors, grew to 830 members, and gained 84 supporters at our new Henry's 100 giving level. Our bold new communications outreach spawned original content from Oregon Public Broadcasting (OPB) that both emphasized Pittock Mansion's link to Portland's history and reached a new demographic. Our visitor experience improvements reshaped how we engage visitors.
Together we have helped sustain Pittock Mansion for its next 100 years through increased community support and targeted restoration efforts.
We sincerely thank everyone who helped us reach our Centennial goals and made Pittock Mansion's Centennial Year a success!