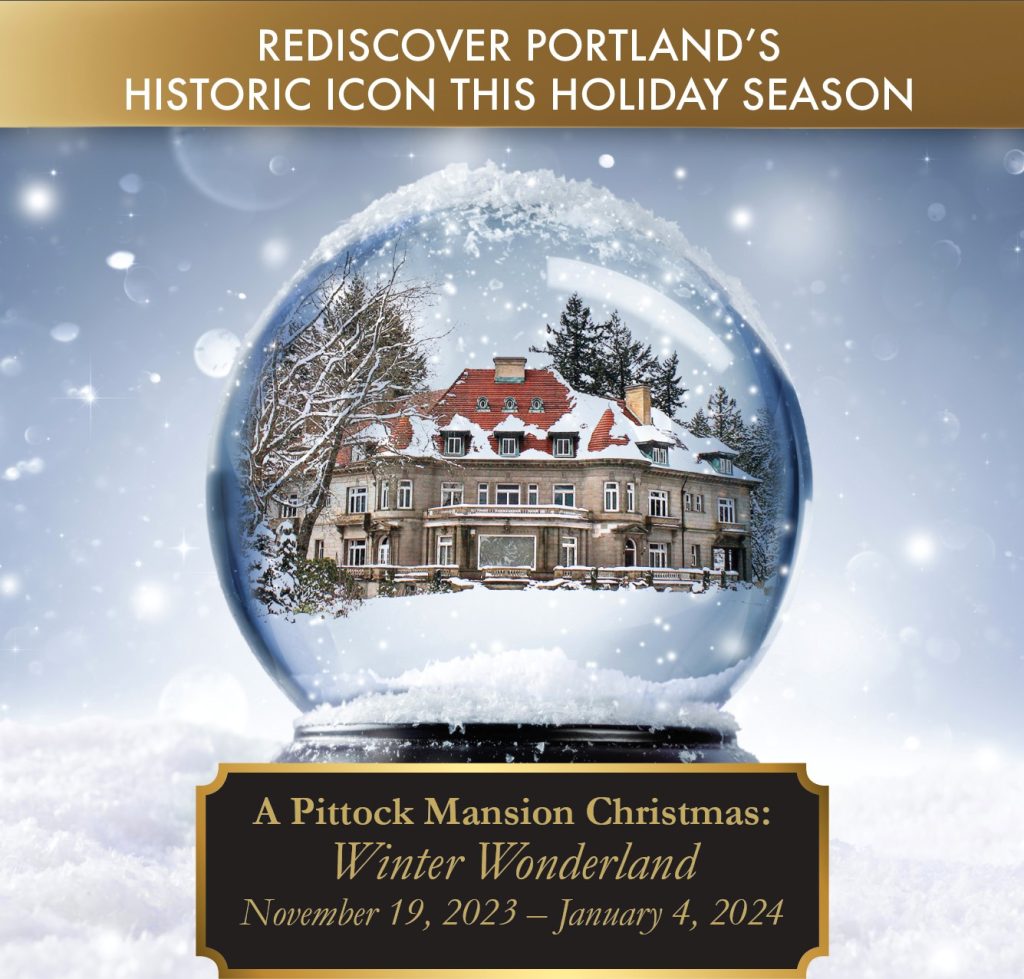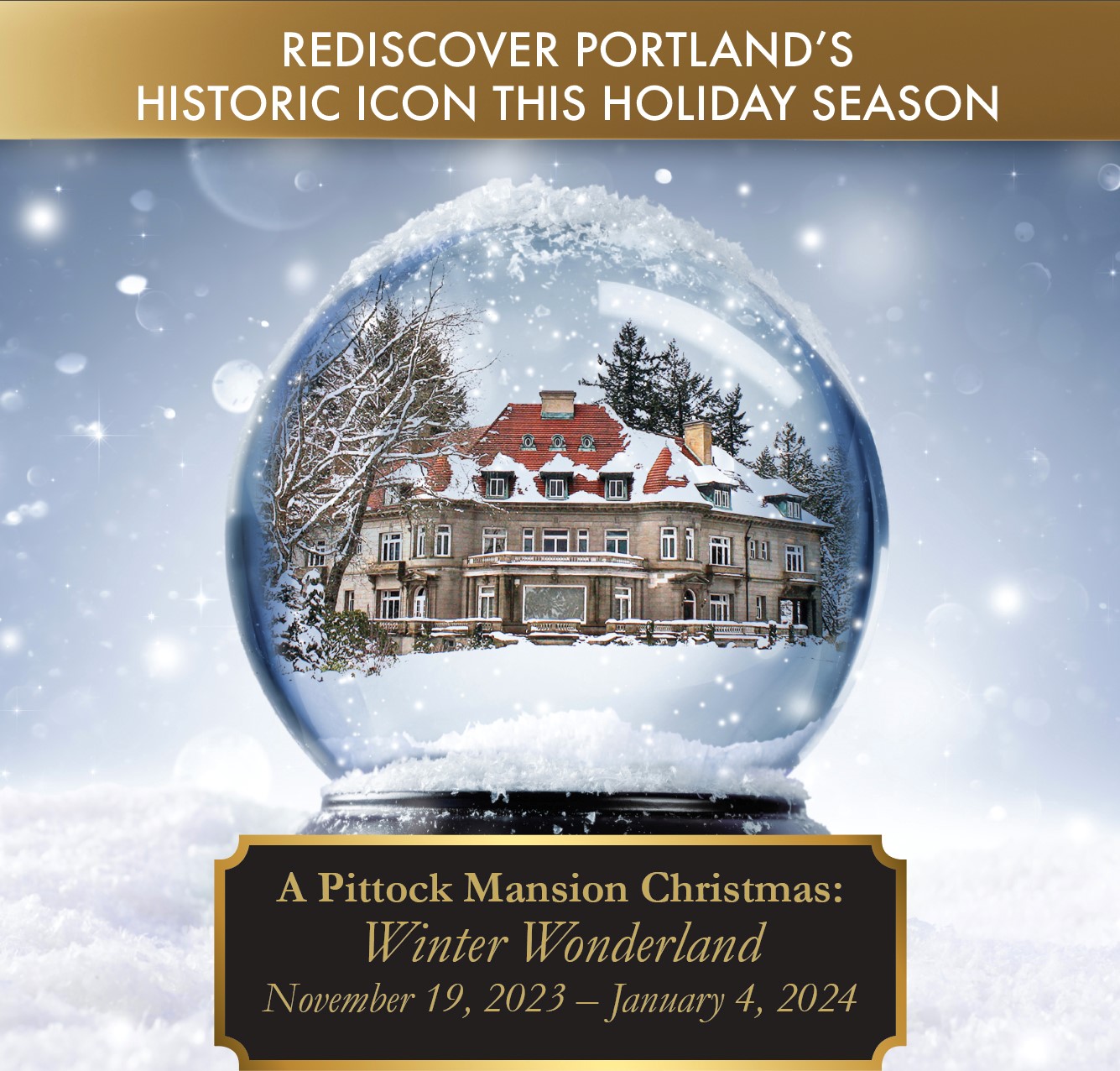 FOR IMMEDIATE RELEASE: 11/15/2023
Pittock Mansion's Annual Christmas Returns with a fun theme this year – Winter Wonderland!
Pittock Mansion transforms into a Winter Wonderland for this year's Christmas display. Come experience this beloved Portland tradition and celebrate the season with the festive and fantastical displays created by our volunteer decorators.
A Pittock Mansion Christmas: Winter Wonderland will be on view November 19, 2023 through January 4, 2024 at Pittock Mansion (closed Thanksgiving and Christmas Day and New Year's Day). The Mansion is open daily 10am–4pm, opening at noon on Tuesdays. Timed tickets for Pittock Christmas are available at pittockmansion.org/events. Admission is $16.50 for adults, $14.50 for seniors, $12.50 for youth and children 5 and under are free. Ticket includes admission to the mansion, the special exhibition in the mansion, including the Christmas displays and the Gate Lodge.

"A Pittock Mansion Christmas is a Portland tradition that reflects the joy of the season and delights guests of all ages each year. We are especially excited to show you what's in store for 2023! We are so thankful for the many Volunteer Christmas Decorators that make this annual event possible," states Katie Williams, Senior Manager of Education and Programs.
More than seventy-five volunteers come together each year to decorate the rooms of the mansion around the theme. This year's decorations evoke a Winter Wonderland by showcasing snow angels, ice skating, elves, snowmen, hot chocolate and gingerbread, marshmallows, and more.
The museum store is geared up to offer some new products that will add to holiday-shopping fun. Pittock members can receive an additional 20% off during the Member Special Holiday weekend on Dec 2-3, 2023.

"Pittock Christmas is a unique annual event that's put together by the community for the community." said Paula Gangopadhyay, Chief Executive Officer, Pittock Mansion Society. "This year in addition to enjoying the festive displays in the mansion, visitors can view the stunning art exhibition, Eliza Barchus: A Woman of Resilience which boasts over sixty-five landscape paintings of the award-winning early Oregon artist. They can also absorb the warmth of the recently re-opened Gate Lodge, the charming home of the Pittock estate-keeper," she added.
Purchasing timed tickets online in advance at pittockmansion.org/events is recommended. Pittock Mansion Christmas is an annual event. General admission discounts do not apply.
For more information or media inquiries, please contact Lauren Hasenmiller at lhasenmiller@pittockmansion.org.
______________________________________________________________________________
About Pittock Mansion: Pittock Mansion is a 1914 historic house museum in Portland, Oregon operated by Pittock Mansion Society, a 501(c)(3) non-profit organization, in collaboration with Portland Parks & Recreation that owns and maintains the buildings on Pittock Campus. Pittock Mansion Society has a mission to inspire understanding and stewardship of Portland history through the Mansion, its collections, and its programs. Visit pittockmansion.org to learn more.