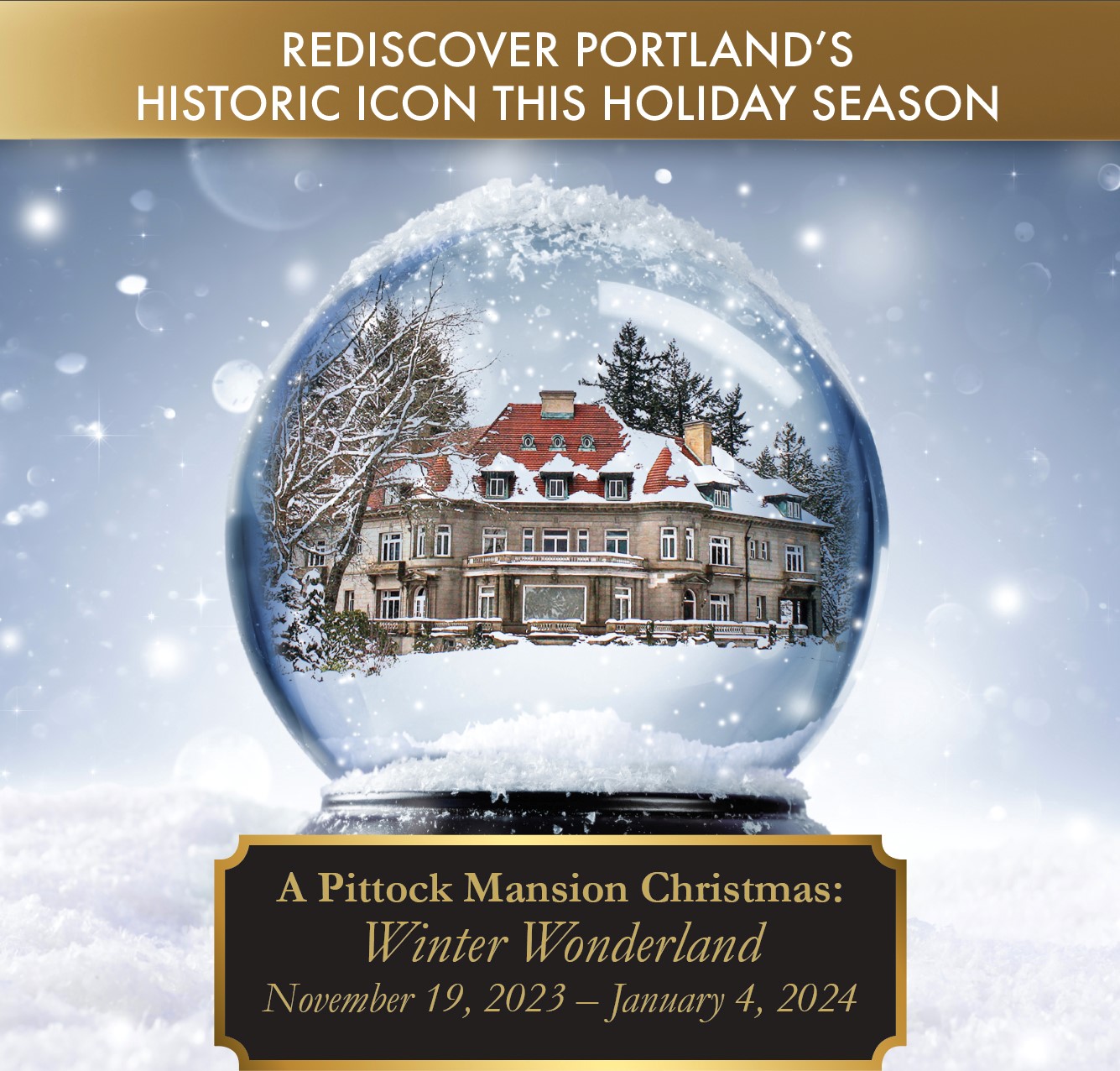 On view November 19, 2023 – January 4, 2023
Included with general admission
Pittock Mansion transforms into a Winter Wonderland for this year's Christmas display. Come experience this beloved Portland tradition and celebrate the season with the festive and fantastical displays created by our volunteer decorators.
More than seventy-five volunteers come together each year to decorate the rooms of the Mansion for the holiday season. This year's decorations evoke a Winter Wonderland by showcasing snow angels, ice skating, elves, snowmen, hot chocolate and gingerbread, marshmallows, and more.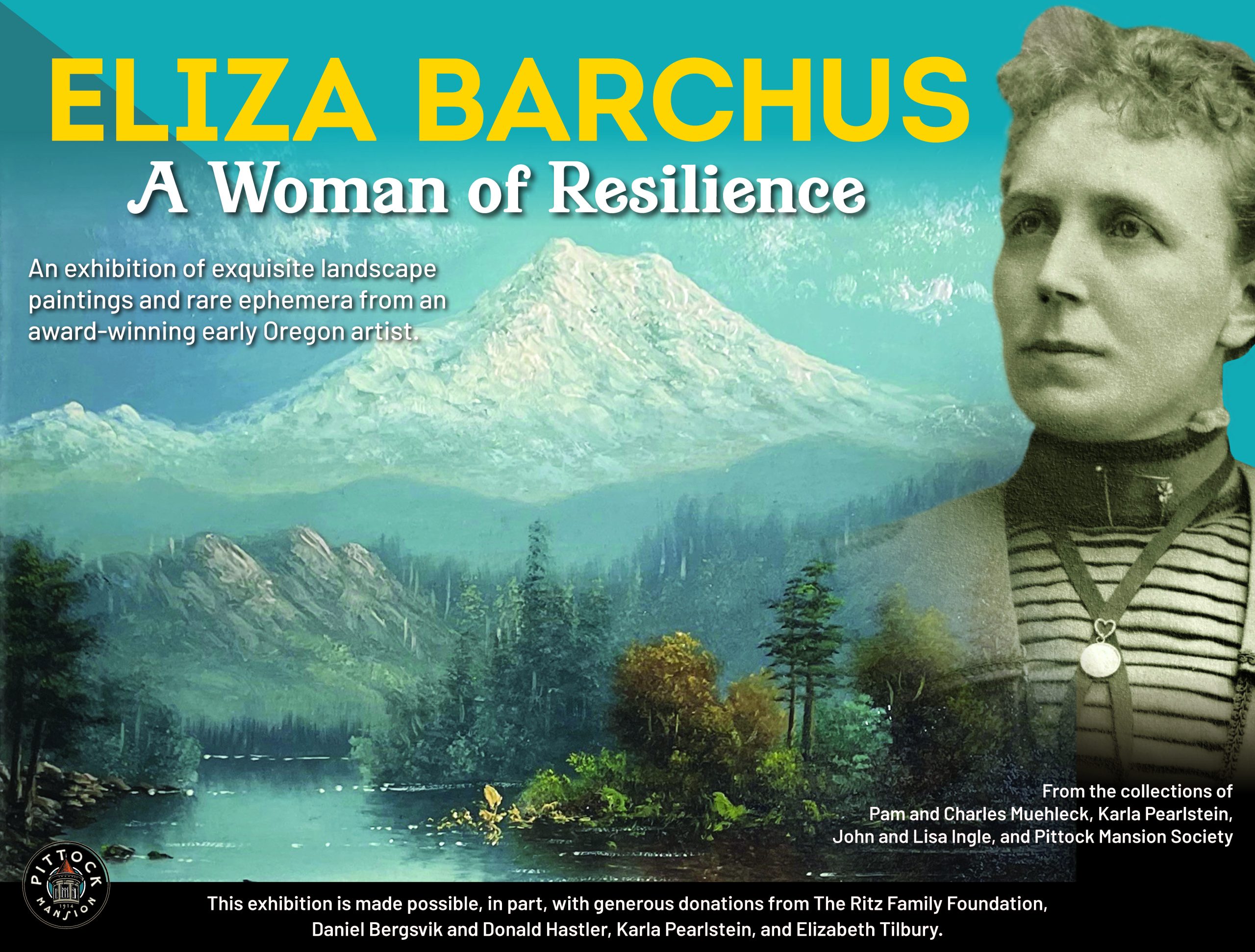 On view August 11, 2023 – February 2023
Included with general admission
Eliza Barchus: A Woman of Resilience showcases over sixty-five landscape paintings and  personal ephemera. Barchus's chair and paintbrushes from her studio, awards, family albums,  and suitcase are displayed alongside her breathtaking renditions of Mount Hood, Mount Rainier,  Crater Lake, and other sites throughout the American West. The exhibit boasts the largest  collection of Barchus paintings ever before publicly displayed.
From the collections of: Pam and Charles Muehleck, Karla Pearlstein, John and Lisa Ingle Collection, and Pittock Mansion Society
This exhibition is made possible, in part, with generous donations from The Ritz Family Foundation, Daniel Bergsvik, Donald Hastler, Karla Pearlstein, and Elizabeth Tilbury.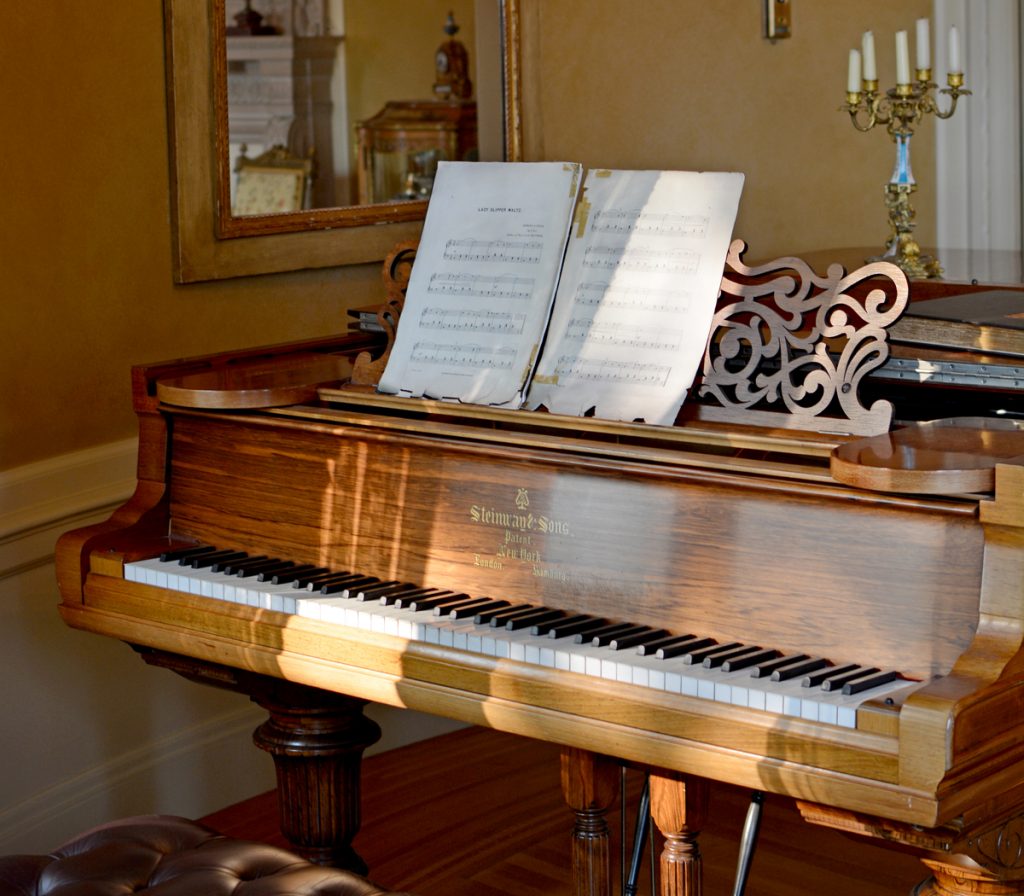 The Permanent Collection
Pittock Mansion is home to a wide array of period furnishings and personal artifacts that connect visitors to early 20th-century life. Heirlooms donated by Portland founding families, like the Failings and Couches, are on display in addition to our original Pittock family pieces. Highlights include the Pittocks' Steinway grand piano, a Couch family desk, the Failing family's set of Limoges china, and Henry Pittock's masonic sword.
Interested in donating an item? Please contact us here.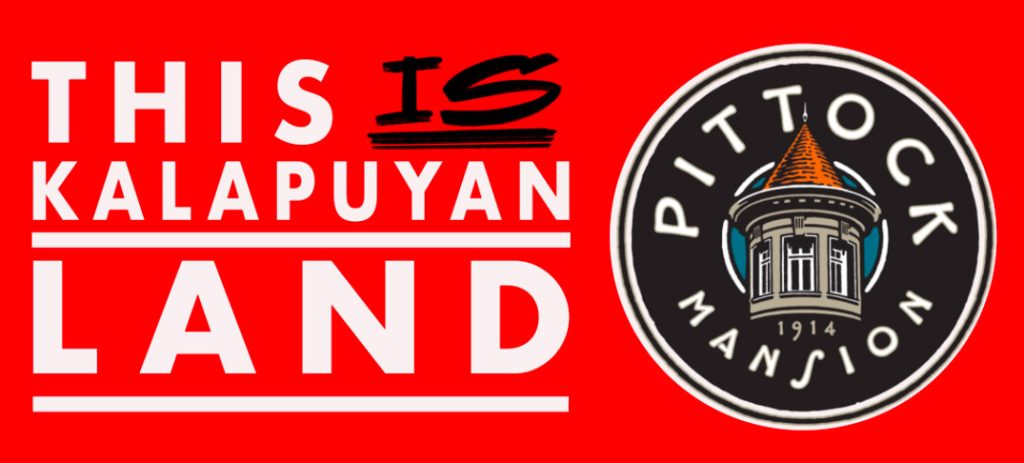 THIS IS KALAPUYAN LAND AT PITTOCK MANSION
On view beginning February 2023
This IS Kalapuyan Land at Pittock Mansion is an exhibition of contemporary Indigenous artworks alongside a selection of historical panels curated by Steph Littlebird (Grand Ronde, Kalapuya, Chinook). The original version of This IS Kalapuyan Land was created in 2019 by Littlebird in collaboration with Five Oaks Museum. In developing This IS Kalapuyan Land, Littlebird adapted a previous problematic exhibition about Kalapuyan people put forth by the Washington County Museum in 2008, titled This Kalapuya Land. Her approach included physically redacting and correcting the existing explanatory panels, continuing to display Native belongings and tools from the previous exhibition, and adding a selection of contemporary Indigenous artwork from artists with connections to Kalapuyan land and across Turtle Island, which asserted the current presence and vibrance of Native people. The annotated panels were augmented with historical input from David G. Lewis, PhD, a preeminent scholar on Western Oregon tribes. This IS Kalapuyan Land at Pittock Mansion boasts a new collection of contemporary artworks created by Native artists with connections to the Pacific Northwest.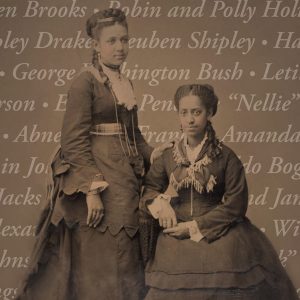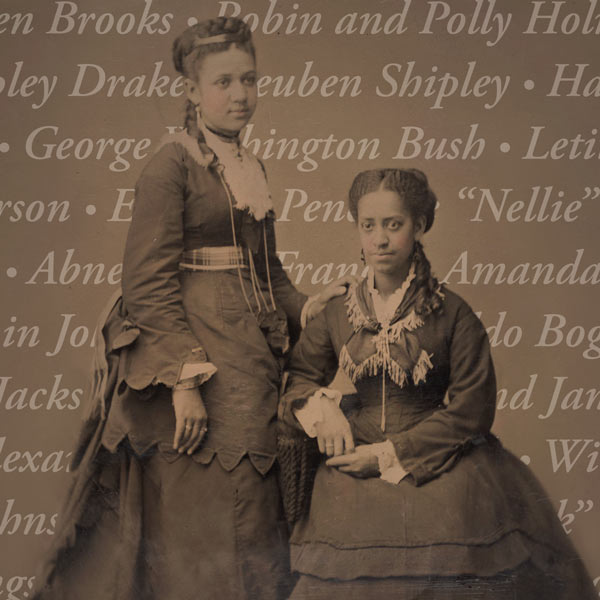 Black in Oregon: 1840–1870
On view July 19 through November 13, 2022
Oregon Black Pioneers' travelling exhibition Black in Oregon: 1840–1870 highlights some of the Black individuals and families who came to Oregon during the years of legalized racial exclusion, when the provisional and territorial governments of Oregon explicitly barred Blacks from residency and all legal protections. These Black pioneers risked everything to build a better life for themselves and their families in Oregon and helped lay the foundation for the state's future Black communities.
Portrait of Louisa T. Flowers (right) and unidentified woman, c. 1880-1900. (Oregon Historical Society)
Thank you to our Supporting Sponsor Skin by Lovely.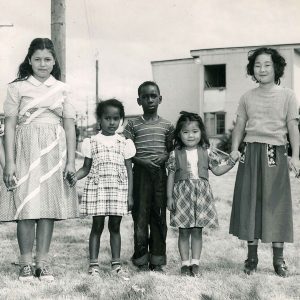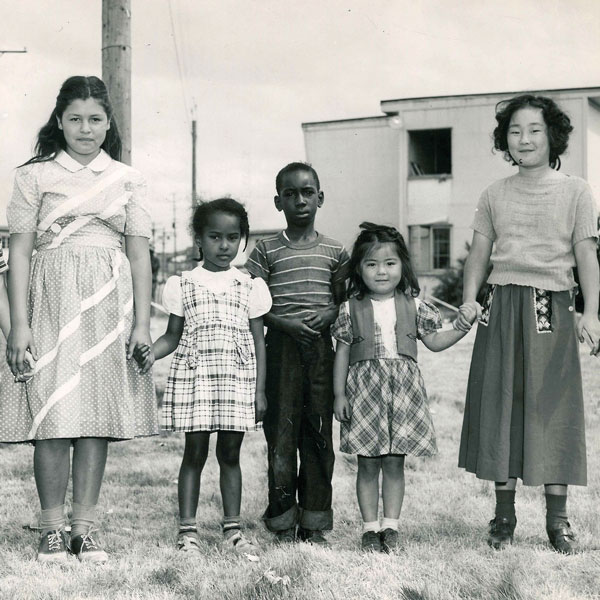 Vanport: A Surge of Social Change
On view through November 15, 2021
Photo courtesy of Oregon Historical Society
Home to a multiracial and multicultural community of over 40,000 residents, Vanport was built to house migrant workers and their families who relocated to the Portland region during World War II. At its peak, Vanport became the largest wartime federal housing project in the nation and second largest city in Oregon. On May 30, 1948 a devastating flood destroyed the entire city, killing 15 people and leaving thousands houseless. Vanport was never rebuilt, but its legacy lives on.
Vanport: A Surge of Social Change is a Vanport Mosaic exhibit developed in collaboration with Pittock Mansion.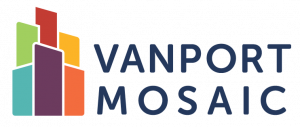 Thank you to our Supporting sponsors Schwabe, Williamson & Wyatt and OnPoint Community Credit Union, and to our Presenting sponsor Howard S. Wright Construction.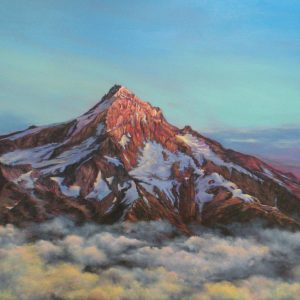 On view through February 1–November 15, 2020
Mount Hood is a key part of Portland's skyline, seated atop the Cascade Range to the east of the city. Residents and visitors alike look forward to when the clouds part and the mountain is visible, admiring how its snowy slopes vary from hour to hour, season to season. Discover artistic interpretations of this Portland icon by local artists.
Image: Jeanette French, Mount Hood, North Face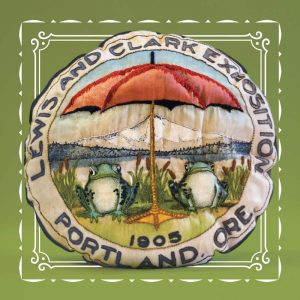 Portland's World's Fair: Souvenirs of the Lewis and Clark Exposition
On view July 20–November 17, 2019

In 1905, Portland welcomed visitors to the city's first—and only—world's fair. The Lewis and Clark Centennial Exposition highlighted the area's industrial innovation and growth, delighted visitors with exotic spectacles, and offered unique keepsakes—souvenirs that are coveted by collectors today. Discover some of the fair's more fanciful objects from the private collection of Mike Cramer including souvenirs from former Governor Victor Atiyeh's collection.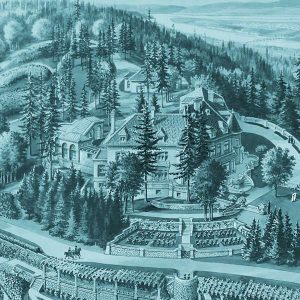 CHANGING LANDSCAPES: The 100-year history of the Pittock Mansion Estate
On view February 1–July 14, 2019

Pittock Mansion has experienced some dramatic changes over the course of its history, and the same is true for the grounds surrounding the historic home. From a private family estate to a public garden and park, explore the changing perspectives and approaches to the landscaping and usage of the Pittock estate, and discover how the grounds were developed into the renowned garden and park it is today.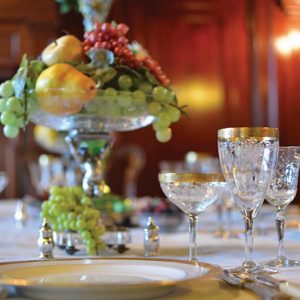 Dining in the Gilded Age
On view July 14–November 11, 2018

Explore the gadgets used to prepare foods and feasts circa 1900 and the specialized china and silverware used to serve them. As cooks and hostesses responded to a new abundance of tableware, tools, utensils, and foodstuffs, American dining customs reached elaborate new heights, unmatched before or since.