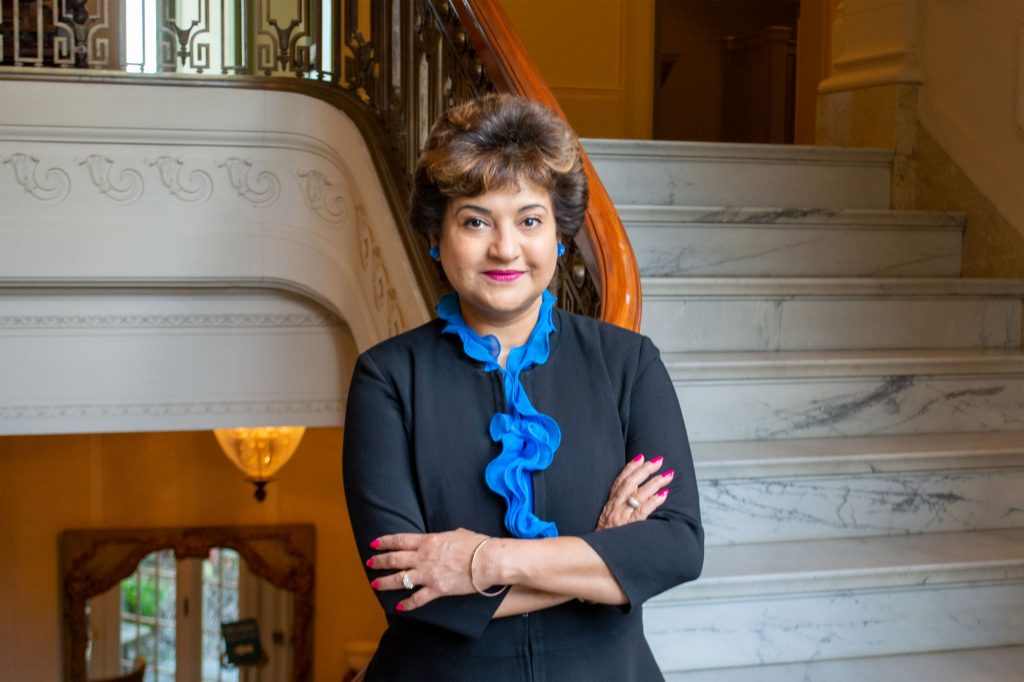 Pittock Mansion welcomes new Chief Executive Officer Paula Gangopadhyay as the museum prepares to develop a new vision and strategic plan for Portland's famous historic landmark.
The Pittock Mansion Board of Directors conducted a nationwide search for its new Chief Executive Officer and selected Paula Gangopadhyay. Paula is a widely recognized and respected leader in the cultural sector. Paula's expertise lies in helping organizations reimagine and reposition themselves in a new light. An astute business leader, a seasoned fundraiser and an entrepreneur, she is known to lead by example.
Over her professional career of more than twenty-six years, she has worked in museums as well as government, business, philanthropy and education sectors. For the last five years Paula served as the Deputy Director of the Office of Museum Services at the Institute of Museum and Library Services (IMLS) which is the primary source of federal funding for all museums in the nation. In her earlier role as the Chief Learning Officer of The Henry Ford, the nation's largest indoor/outdoor museum with five venues, she emerged as a leader on innovation in education. She has received multiple awards and honors including being appointed by President Barrack Obama to the Board of IMLS for the 2012–2015 term.
"I am excited to join the Pittock team and lead the organization to a dynamic next chapter in its history. My goal is to make relevance, diversity and inclusion and strategic community partnerships key elements that define our work and contributions to the greater Portland community. I envision changing the paradigm in the historic house museum world by leading the Pittock Mansion to emerge as an innovative national model. There's so much potential and the timing is opportune. I am looking forward to working with an enthusiastic board and talented staff team who are eager and committed to reimagining the future," said Paula Gangopadhyay.
Roy Fox, President of the Board, notes that the entire Board was impressed with Paula's keen strategic thinking, vast knowledge of trends in the field of historic museums, demonstrated success with innovation and ability to forge partnerships to advance common goals. "The Pittock Mansion is an iconic landmark. We believe that the Mansion, its collections and its stories can become even more relevant to the understanding of Portland's past and present. Paula has the drive and ability to position the Pittock Mansion, not only as Portland's finest historic house museum, but as the means to bring the city's history to bear on its future."