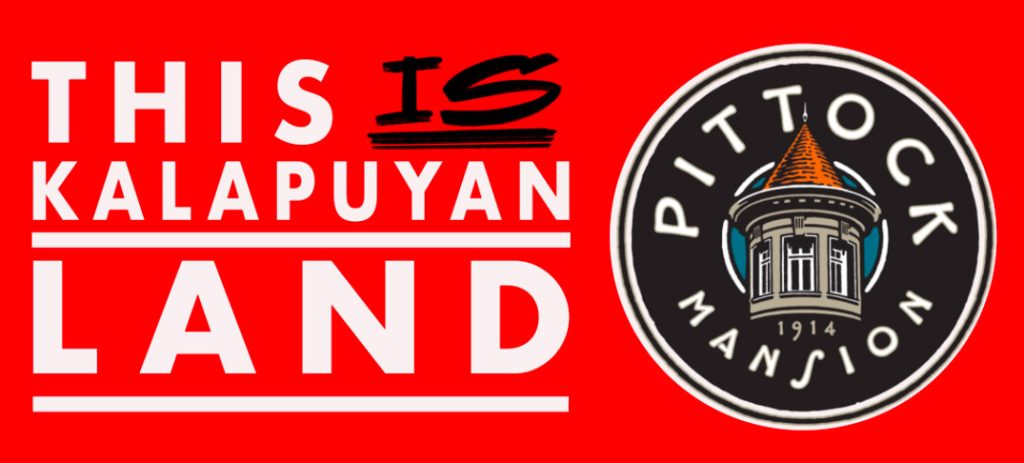 Featuring contemporary artists representing Oregon's Indigenous communities, this exhibition staged at historic house museum Pittock Mansion blends the past and present with an impactful message about cultural resilience through the act of making.
From Feb. 1 through July 23, 2023, visitors can view This IS Kalapuyan Land, a contemporary art exhibition curated by Steph Littlebird, an Indigenous writer and fine artist, housed within Pittock Mansion. The exhibit blends hand-written corrections from the curator throughout a historically inaccurate museum exhibition about the Kalapuyans, combined with colorful new artwork that asserts "Native people are still here."
Annotated historical panels with input from David G. Lewis, PhD, a preeminent scholar on Western Oregon tribes, are featured alongside the artwork. Littlebird's approach physically redacts and corrects historically inaccurate and biased panels.
The first interpretation of This IS Kalapuyan Land was mounted at Five Oaks Museum in 2019. Pieces from the original exhibit have been carefully selected and completely new art from current day Native artists has been created for the Pittock Mansion version of the exhibit.
"This IS Kalapuyan Land examines the complicated history of colonization in Oregon and reveals the way American imperialism has impacted the broader Indigenous community through diaspora. This collection of contemporary Indigenous art reflects the diversity of Oregon's present-day Native communities. Each artist represents a different facet of modern Native identity, from skateboarding to bead working and digital illustrations, Indigenous cultures are centered in the act of making. This IS Kalapuyan Land reveals the myriad of ways this cultural value manifests in our daily lives," says Littlebird.
Pittock Mansion Society is committed to representing diversity through our exhibits, programs and community outreach strategies and aims to create a welcoming environment for people of all backgrounds. We acknowledge and honor that the grounds in this region, including where Pittock Mansion stands, as the ancestral land of multiple Indigenous communities including the Atfalati-Kalapuyans and Clatsop Chinook people.
"This is Kalapuyan Land exhibit tells the history of and continued vitality of Indigenous communities through a Native lens" says Pittock Mansion CEO, Paula Gangopadhyay. "It pushes back against the erasure of Native peoples, offering a strong connection between the past and the present for our visitors, encouraging them to think critically. This is very much in alignment with the new Pittock 2.0 vision, which aims to expand our storytelling by including the stories of marginalized communities in Oregon. We are particularly grateful for our partnership with Guest Curator, Steph Littlebird. We encourage the greater Portland community to come and deepen their understanding of Indigenous communities through this exhibition."
In coordination with the exhibition, Pittock Mansion will feature two educational sessions open to the public:
Feb. 23 – Virtual Curator's Talk with Steph Littlebird
May 4 – In-Person Lecture with David Harrelson (Cultural Resources Manager of the Confederated Tribes of Grande Ronde)
Further details regarding the programs will be available on the Pittock Mansion's website at pittockmansion.org.
###
About Steph Littlebird: Steph Littlebird is an artist, curator, writer, and a registered member of Oregon's Grand Ronde Confederated Tribes. She received national recognition as curator of This IS Kalapuyan Land (2020) an exhibition at the Five Oaks Museum in Portland, which was featured by ArtNews and PBS NewsHour. Littlebird earned her B.F.A. in Painting and Printmaking from the Pacific Northwest College of Art (PNCA) in Portland. She currently lives and works in Las Vegas. Visit stephlittlebird.com to learn more.